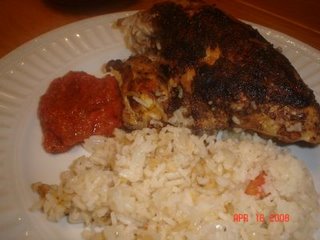 1 chicken cut into 4 pieces
2 teaspoons mandy spice mix (recipe below)
1 teaspoon salt
1. Rub spice and salt all over the chicken, place it in a 4 qt sauce pan , cook chicken uncovered with no oil until tender and brown, about 40 minutes.
* VARIATION- I also like to opt out of the above method and cook the chicken under the broiler! It will look like the below picture still similar to the above but the taste is a bit more crispy and smoky.
1 1/2 cups basmati rice
1 tablespoon butter
1 small onion, finely chopped
1 small tomato, finely chopped and removes all the seed
4 whole cardamom pods
4 whole cloves
6 black peppercorns
3 cups chicken stock (or just enough that about an inch is above the rice)
2. Next, Saute onion with butter until tender and brown, add whole spices, salt, rice, water, stir, boil then add chopped tomato, simmer cover, cook on a very low heat for 20 minutes.
3. After the chicken and rice is cooked place all items into a the 4 qt saucepan you cooked the chicken in and smoke.
To learn how to smoke food please watch my video, click here.
Spice mix: 2 tablespoons cardamom pods
2 tablespoons cloves
2 teaspoons black pepper
1 whole nutmeg
1 tablespoon ginger
4 bay leaves
In a coffee grinder or food processor finley blend all spices together.
Yields: 2 servings
Last edited by Aisha on Wed Jun 09, 2010 9:30 pm; edited 1 time in total (Reason for editing : to remove outside link)

Guest

Guest






---
Permissions in this forum:
You
cannot
reply to topics in this forum