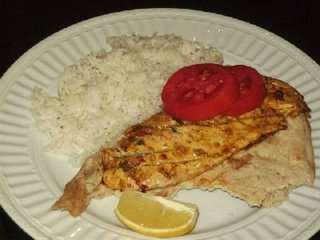 2 large red snapper fillets
2 teaspoons coriander, ground
1 teaspoon salt
1/2 teaspoon white pepper
1 teaspoon red pepper
1 teaspoon saffron
2 teaspoons paprika
1 small onion, chopped
1/4 cup parsley
1/4 cup cilantro
1/4 cup lemon juice
1/4 cup olive oil
1 small piece ginger
2 garlic cloves, crushed
1 lemon, cut into wedges
1. In a blender, add coriander, salt, peppers, saffron, paprika, onion, parsley, cilantro, lemon juice, olive oil, ginger and garlic. Blend well. In a large plastic zip lock bag, add spice mixture and fish fillets. Marinate in refrigerator 1-4 hours.
2. In an 8-inch skillet on medium heat carefully place fish fillets, cook for about 3 minutes on each side. Fish should be white, be careful to not overcook. Serve fillets with lemon wedges.
Yields: 2 servings

Guest

Guest





Mashallah, that looks very nice.
for the picture

Guest

Guest






---
Permissions in this forum:
You
cannot
reply to topics in this forum