As salaamu alay kum,
These taste so good I made them 2 nights in a row I eat so many of them way to many they taste nice with cheese.
1 cup whole wheat flour/white is fine to
1/4 cup wheat germ
3/4 cup oats
1/4 cup olive oil
1/3 cup water
1/2 tsp salt
1/4 tsp black pepper
1/8 tsp dry thyme leaves
1/2 tsp dry oregano
1/4 tsp red hot chili flacks (optional)
Mix together well and form into a dough ball then add 1 tsp of water and kneed a few times to mix. Pat down flat and roll out with a rolling pin. Cut into about 4cm by 4cm and about 1 cm thick, it is a bit flaky but its workable. Bring the odd pieces back together in a ball and roll back out till all dough is used up. Put on a baking tray and in to a 350 degree oven for 15 minutes on one side then flip oven and cook for 10 to 12 minutes on the other side. When its done put it on a plate to cool, you can eat this right away though warm or what till its room temperature. Store in a plastic container in the cupboard. I am not sure for how long as these never last me more then 2 days they are very addicting. Probably will last like 5 days you could put them in the fridge to maybe for a little longer. Keep an eye on them after flipping them I would say after 10 minutes if some are getting more brown then take them out there will be some that are thinner then the rest since its hard to get them all the very same size.
These pictures are from last night I did a double batch, so I cooked it a bit longer 20 minutes on each side that's for a double batch though.
This is before they went in the oven!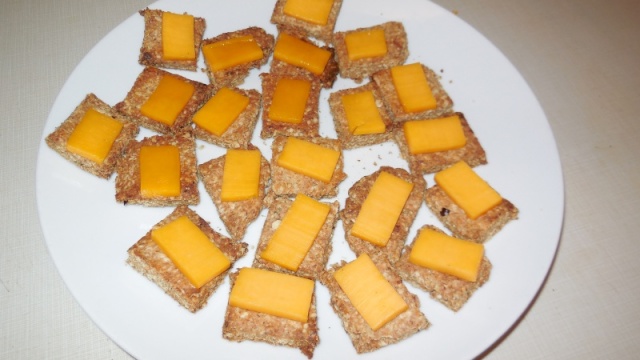 Guest

Guest






---
Permissions in this forum:
You
cannot
reply to topics in this forum