Here i come with my first recipe, i hope you like it

p.s: I dont work by measurments! i go by estimating and tasteting 8)
so the following is an approxmiate!!
curry vegetable rice with chicken: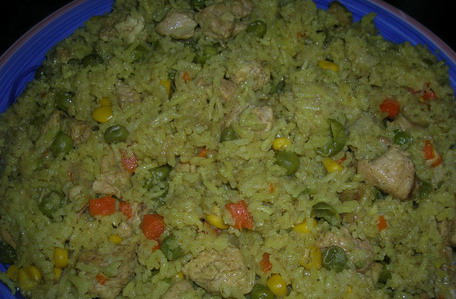 1-2 cups of basmati rice
1 chicken breast fillet (cut into little cubes) - u can add more if you like to have more chicken
1/4-1/2 frozen bag of peas-carrots-corn (add depending on how much you'd like to have)
1 onion cut cubes
1 tea spoon of crushed garlic
salt- pepper-
curry powder (depends on if you want it chilli or not) i dont like chilli or hot food so i only add little bit to have some taste!
1 tea spoon tumerick
directions:
fry onions till they become goldish in colour then add the crushed garlic and stir, add the chicken pieces salt-pepper-curry- tumerick and stir until the chicken is cooked (doesnt take long cause its breast fillets), then add the vegetables and mix all together keep them on the stove for a minute or so, then after you wash the rice add it on top of the mix with water to cover it. keep it on low until rice is cooked.
when its finished stir them and put some to eat and enjoy
p.s: you can have some yoghurt next to them its nice as well
sahten wo hana

Guest

Guest





As Salamu alaikum
Masha Allah a nice easy recipe.

Zaza




Posts

: 354


Join date

: 2009-04-26


Location

: Hopping between The Garden and The Book Room



wa alaykum el salam
thats why I love it

wa iyaki sister zaza thank you for passing by

Guest

Guest






---
Permissions in this forum:
You
cannot
reply to topics in this forum