Ruz M'hubub (Libyan dish)
Lamb pieces (chops/chunks - 1 per person)
1 onion
2-3 whole garlic cloves (not the whole bulb as my mum once used  

  )
1-2 fresh tomatoes
2 whole green Chilli peppers
whole spices of Cardamom, Cloves (3pieces), 1-2 Cinnamon sticks,
Ginger Root (fresh if you can get it),
1/2 tablespoon Black Peppercorns
2-3 Bay leaves
Ground spices:-
1 teaspoon Turmeric (optional),
1 teaspoon baharaat/hararaat/Garam masala
1 teaspoon Salt
Boil the meat with all of the above ingredients until tender then remove the meat from the water and brown in the oven and the strained water is used to boil the rice with.
NB most Libyan dishes using rice are made using Egyptian Rice.
The meat is then served on top of the rice and can be decorated with fried nuts
(one or a mixture of the following :pine nuts/almonds/cashews/ pistachios /almonds (skin removed and halved) and small pieces of fried, cut Liver seasoned with some ground black pepper and a tiny sprinkling of ground cinnamon (at the end of frying).
Accompany with
M'Sayr
, Green Salad and or Tsatziki / Cucumber Raita (Yogurt,cucumber and mint).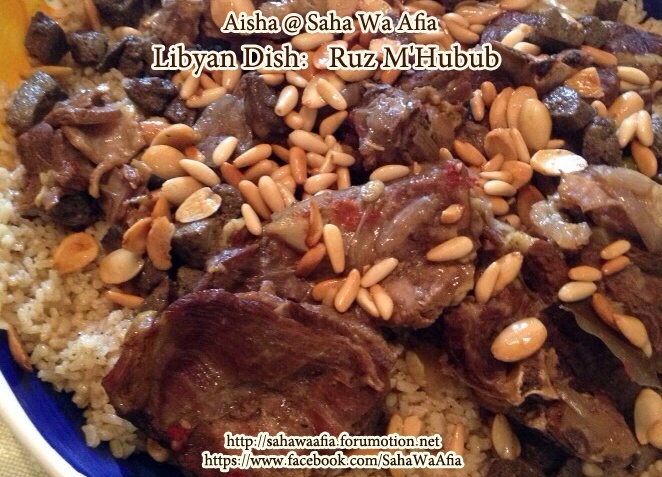 Sahtain wa Aafia!
Last edited by Aisha on Wed Mar 19, 2014 7:57 am; edited 2 times in total
_________________
WaSalaamu alaikum
Aisha

Aisha

Kitchen Staff





Posts

: 275


Join date

: 2009-04-25



Wa alay kuma salaam wa rahamatulahe wa barakatu,

Yummmy wow very nice jazaka'Allah khair.....

Guest

Guest





 Wa jazakiallahu khairan  
_________________
WaSalaamu alaikum
Aisha

Aisha

Kitchen Staff





Posts

: 275


Join date

: 2009-04-25




---
Permissions in this forum:
You
cannot
reply to topics in this forum