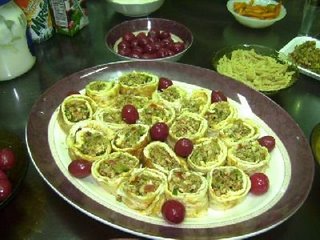 1 small chicken
4 eggs
2 cups water
3 garlic clove, chopped
2 red onions, diced
1-1/2 teaspoon cilantro
1-1/2 rice bouillon cube (white maggi)
1/2 teaspoon black pepper
2 teaspoon salt
1/2 teaspoon dried lemon, ground
4 small cucumbers, diced
5 tablespoons corn oil
1. In a stockpot on medium heat, add 2 tablespoons of oil, 1 onion, 1 garlic clove, 1 teaspoon salt and chicken. Sauté for 5 minutes. Add water and reduce heat to low and simmer covered for 30 minutes. When chicken has cooked, remove bones and chop meat into tiny pieces.
2. In a sauté pan on medium heat add 2 tablespoons oil, 1 onion, 2 garlic cloves, cilantro, pepper, bouillon cube, 1 teaspoon salt and chicken. Cook until golden. Add cucumbers, mix well.
3. In a medium bowl add eggs, beat.
4. In a 9-inch skillet add 1 tablespoon oil, add eggs and allow to form omelet. When egg is cooked, flip gently and cook on other side. On a flat surface such as a large wooden chopping board or counter lay omelet. With a large soupspoon, fill 2 scoops of chicken mixture onto edge of omelet. . Roll the omelet over the filled side then fold the sides inwards to form a square shape. Continue rolling making sure mixture does not fall out. Gently, cut into 2-inch slices.
Yields: 1 large roll

Guest

Guest





Assalamou aleikoum


this look so nice. I have tried it once (it was not exactly this recipe but a similar one) but it surely did not look like your picture (it looked more than a mushy mess :hehe: :003:

Maybe I should try again ..

by the way, on your pic, what did you garnish the dish with ? dates? I cannot make out the brown little balls :003:

Khadi

Kitchen Staff





Posts

: 47


Join date

: 2009-04-25


Location

: http://sistersbookroom.bbactif.com



Another great post.This sounds interesting!Thanks sister for posting.

Guest

Guest





Assalaamu Alaikum
This looks like a really easy flop proof recipe for tasty starters. Infact it sounds so yummy I think I might just make it for my breakfast or brunch.
I think the garnish you've added are olives, could be wrong though!
Shukran.

Guest

Guest





Is it eaten hot or cold? I like the sound and look of this inshallah may give it a try before ramadhan then if it turns out OK will be another ramadhan regular...LOL

Guest

Guest






---
Permissions in this forum:
You
cannot
reply to topics in this forum