Dough:
3 eggs
3 tablespoon of honey
200 gramms of butter
1 cup of sugar( 250 gramms)
half pack of baking powder
flour
Cream:
250 gramms of butter
1jar (330 gramms) of condensed milk
Preparation:
In a big casserole boil 3 tablespoons of honey,5-7 minutes,add 200 gramms of butter,let it melt,boil 2 minutes,add half pack of baking powder,stir well,it will be like a foam,stil 3-4 minutes (not more),and take out to the cool place.
In other dish,mix 3 eggs and 1 cup of sugar,and pour it into the honey mass ( honey mass should be cooled)mix it well (no mixer),put flour and make a dough,it should be a little liquide,you`ll need 3 or 4 cups of flour approximately.Divide it into 5-6 parts,preheat oven t-180 C,cover the baking shape (I have round one-23 diameters) with baking sheet,put one part of dough on it with the spoon and smudge it all over the shape.Put into oven and bake it 5-7 minutes,after,put away.The same for all the rest of the parts of dough.Cool them.
For the cream mix with mixer softened butter until it`s lush,pour condensed milk on it and continue mixing,until it`s homogeneous mass. Smudge ready dough sheets with a cream.Let stay for minimum 2 hours.The best result will be if you let it stay for the night.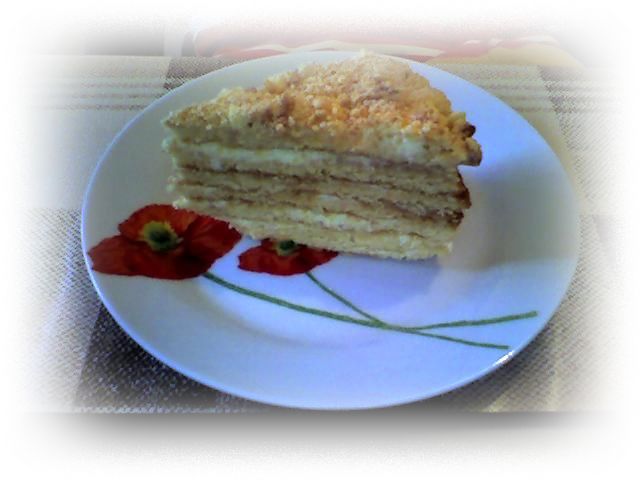 Guest

Guest





MashaAllah that is a new and interesting recipe that I have never seen before. 8) The pic is great too! JazakiAllahu khairan for posting dear sister
_________________
WaSalaamu alaikum
Aisha

Aisha

Kitchen Staff





Posts

: 275


Join date

: 2009-04-25



wa iyaaki ukhti,

Guest

Guest





Masha Allah yummy mouthwatering recipe.
for sharing

Zaza




Posts

: 354


Join date

: 2009-04-26


Location

: Hopping between The Garden and The Book Room



Looks very yummy masha'Allaah and I agree the picture is great!
Jazakillaahu Khayr for sharing dear sis.

Munaqaba08

Kitchen Staff





Posts

: 93


Join date

: 2009-05-06



try it,it`s very tasty,and my favorite one,wa iyaki ukhti))

Guest

Guest






---
Permissions in this forum:
You
cannot
reply to topics in this forum