Assalamou aleikoum wa rahmatoullah wa barakatou
Chorba frik, in my house, is compulsory in Ramadan (and nearly every day in winter too :hehe: ).
If you have an algerian husband, try this one - this is my recipe, very quick (do not follow recipes where it will take you an hour and half to do - once you become a pro of chorba frik, 40 minutes inshallah will suffice from start to finish :101: )
What is frik? frik is wheat grains that have been grounded. My husband's family usually send it to me from Algeria, but if I do not have, then I use something similar, bulghur (but be aware that the grains are thicker, therefore, you will need less).
you will need for about one & half litre of the soup (it is enough for 2-3):
1 standard drinking glass/cup of frik
1 coriander (cilentro - Qsbar) bouquet 1 tube of tomato puree1 400 gr. of tomato passata
or just a can of tomoto reduced into puree will do.
500 gr. of lean mince meat1 onionsalt
and
pepper
Ok, the method now :
1 - start with the
frik
: rinse it first in a thin meshed colander (otherwise the grains will run through) and take out all the black and unsightly grains you find.
One you have done this, soak in hot water while you are preparing the rest of the ingredients (it will cook quicker).
2 - then the
coriander
and
the
onion
: wash well, dry and chuck in the food processor together (onion cut roughly at the bottom, coriander cut rougly on top) to chop it small (if you do not have a food processor, then I am afraid you will have to chop it as small as you can

with a sharp knife. If you do not have a food processor, please, smile sweetly at ''him indoors'' :hehe: and get one. I only have a small one, but Alhamdullilah, it is a life saver ! I do not cry as much nowadays :hehe: by the way, keep 3 branches of coriander on the side and do not chop yet.
3 - now, in a pan that can hold up to 2 litres or more of water), put a tiny bit of oil. Reserve one tablespoon of the coriander/onion mixture and put the rest in the pan to be fried lightly (very small gas mark). Add a glass of water for it not to attach to the bottom of the pan.
4 - take the tablespoon of
frik
and the tablespoon of
coriander/onion
,
salt
and
pepper
and mix well with the
mince meat
.
(the frik will prevent the mince meat to get hard when it cooks, some people add a sliced of bread but frik is much better in my humble opinion

)
5 - make some little meatballs the size of a walnut.
6 - put them in the pan where you have your coriander/onion mix, add a litre of water, a tablespoon of tomato puree, your jar of passata, the frik you have put aside and that now should be fully soaked, and stir the whole lot delicately, as not to break the meat balls. Add a tablespoon of sugar to take out the acidity of the tomato sauce.
7 - add salt and pepper. Turn on full heat to bring to the boil quickly, skim the foamy bit on top if there is any and when it is boiling, turn heat down to just a simmer for about 20 minutes.
It should be cooked after 20 minutes. Check the consistancy of your soup, it should be liquid and not too thick. If it is, add a bit more water until you reach the desired condensity.
If you find it too oily, take out the oil with a ladder, but really, it should not because you have barely used any oil. To remove oil, you can soak too a piece of slice bread in the soup and remove it (before it breaks ,lol).
to finish, chop finely the coriander branches you left aside and sprinkle the chorba frik with it.
(n.b. Some Algerian add chick peas and mint - the original recipe is with lamb meat or mutton, but mince meat is as nice - some even just put chicken

)
Et voila the end result :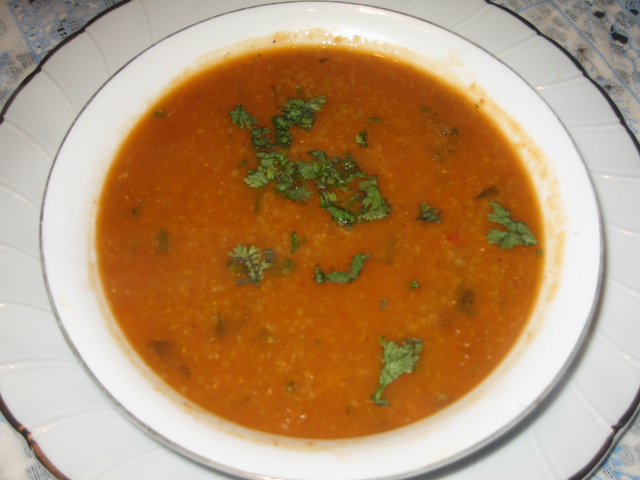 :001:
this is not my picture, unfortunately, :003: I got it from 'Dounyacuisine'

Khadi

Kitchen Staff





Posts

: 47


Join date

: 2009-04-25


Location

: http://sistersbookroom.bbactif.com



for sharing sister
asalam alaikum
ummmouhamed

Guest

Guest





We also have this in Libya mashaAllah - they call the frik ''dasheesha'' here.
:barak02: dear khadija.
_________________
WaSalaamu alaikum
Aisha

Aisha

Kitchen Staff





Posts

: 275


Join date

: 2009-04-25



Assalamu alaykum,
my husband's from Palestine and he LOVES Frikeh - once I made it for him - i mixed the ingredients from three different recipes together aaaand....it didn't come out very well....

he asked me: what's this?!

so, the Palestinian way is without tomato and coriander and without all the other spices i used the first time

) they use just frikeh, large meat pieces (lamb), water, onions, pepper and salt and broth...
but after all...it's not MY favourite dish - maybe I'd like it the way you make

wassalamu alaikum,
Bayyinah

Guest

Guest





Esalaamu aleikoum sissters,

Chourba frik is one of my favDZ soups all yr round.

I make somehwat different since each region does do it differently ... for my recipe and some interesting information on frik (freekah) a superfoood please see my blog post here:
*edited sorry
Last edited by Aisha on Fri Jan 07, 2011 4:29 am; edited 1 time in total (Reason for editing : to remove outside link - please post recipe only)

Guest

Guest






---
Permissions in this forum:
You
cannot
reply to topics in this forum